_____________________________________________________________________________________
JOIN THE VETERANS OF FOREIGN WARS
As yesterday's defenders of freedom, we want to welcome today's military service members into our ranks to become part of our elite group. Our common bond is the battlefield, whether it is service in the Persian Gulf, Korea, Kosovo, the Global War on Terrorism or peace-keeping expeditionary campaigns. Your courage and sacrifice have made a difference in preserving and defending world peace.
If you have received a campaign medal for overseas service; have served 30 consecutive or 60 non-consecutive days in Korea; or have ever received hostile fire or imminent danger pay, then you're eligible to join our ranks.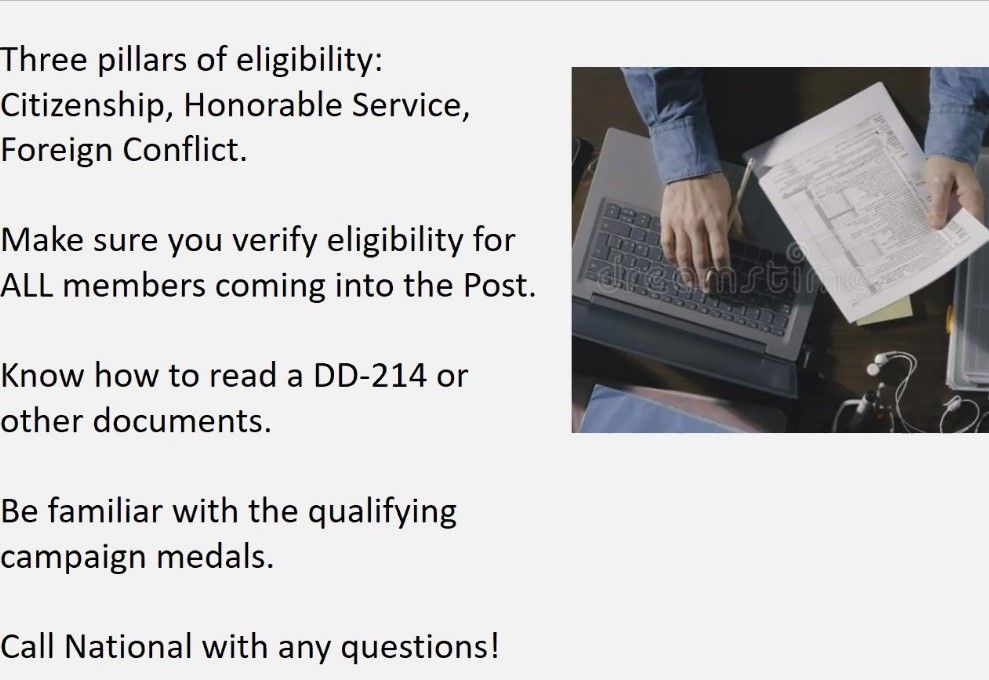 _____________________________________________________________________________________
District and Post QM/ADJ Membership Challenge
Membership challenge to each District and Post Quartermaster and Adjutant.
The objective is to increase the membership of the Department of South Carolina and reward the District and Post QM/ADJ that are working to meet this goal.
For each month, a District or Post reaches the Department membership goal the Quartermaster will be placed into a QM pool and the Adjutant into a ADJ pool for a drawing of a $200 gift card to the VFW Store. If the Post has combined the QM/ADJ into one position that QM/ADJ will be placed into the QM pool for the drawing.
The use of this card is up to the discretion of the winner.
When a District of Post reaches the maximum Department goal of 105% or greater as indicated in the Commanders book, they will be entered for that month only and removed from the following months.
Drawings will be the 1
st
Wednesday of the following month and selected by the Department QM and ADJ.
Goals and Percentages (per Commanders Book)
95% 98% 100% 101% 103% 105%
_____________________________________________________________________________________
Commander's challenge. To increase the Department's membership for the year.
District and Post not yet 100% as of Saturday April 10 2021.
Broken down into 3 categories.
10-150 Members
151-400 Members
400+ Members
District and Posts reaching 100%+2 in their category by June 1st will be entered into a drawing for $325.
Winners will be drawn on June 1st and announced at the CofA on June 5th.
-------------------------------------------------------------------------------------------------
National just made it easier to renew members. They have created a video to remind you of the "Quick Renew" button on the top right of the www.vfw.org webpage.
https://www.youtube.com/watch? v=Wn3d3YQypMI
This is a great tool when calling current and lapsed members of your Post, all you need is member number and name and you can easily verify their address, email and phone and collect payment.


The member will immediately receive an email indicating payment was made.