If you still have not made your hotel reservation for the Department Convention please do as soon as possible.
Unfortunately we just received word the hotel is suffering with limited or no staff working the reservation desk. Everyone is short staffed due to COVID-19.
To make reservations call Nicole direct at 1-803-744-8134 to reserve rooms. Even if she can't answer leave a message and she will return call.
This is the best we can do for now please don't give up keep trying.
We will send more information as it becomes available.
Thanks for your patience.
--------------------------------------------------------------------------------------------------------------
Hotel Direct Line—803-252-8700
Expected Room Rate -

$113.00/night
Deadline for Hotel reservations -

May 21, 2021 - New Cutoff Date.
Convention Registration & Book Ad's Due not later than

May 24, 2021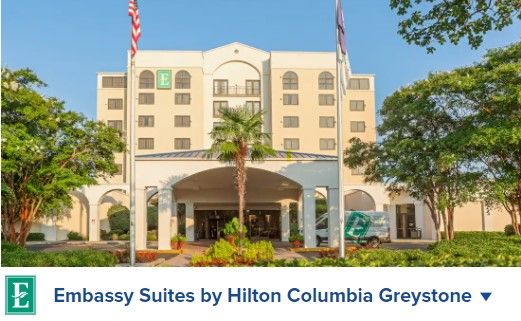 Fill out and send the registration form to the Department.
Use the Buy Now link below to make your payment. If you desire you may still send us a check.
Reminder: If you pay by Pay Pal you still need to fill out a registration form and send it to headquarters.
Send a check to the Department for your book ad.
NOTE: If you paid a Registration and or Book Ad for the Midwinter Conference that was canceled your Registration and or Book Ad will carry over to the Convention.